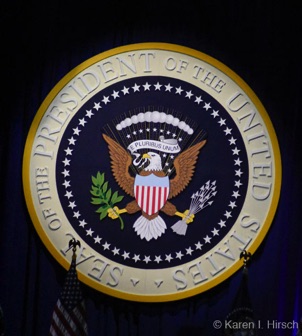 Obama's Farewell in Chicago
Many large monitors placed around the venue showed a video with the highlights of Obama's term in office. At 7:00 PM, Eddie Vedder, frontman for Pearl Jam, appeared with guitar in hand. He entertained the crowd with the accompaniment of the Chicago Children's Choir.
The crowd roared as Michelle Obama and Malia took their place.Then, President Obama appeared after a brief introduction over the loud speaker. In his speech, Obama spoke of accomplishments during his administration and appealed to the crowd to maintain a sense of unity in our nation, rather than division.
It was a momentous evening, long remembered.
And now plans are in the works to establish the Obama Library here in the City the Obamas call home.
44th United States President Barack Obama gave his farewell speech in Chicago on January 10th. He began his political career in Chicago where he calls home, so it was only fitting to come back to the Windy City for his farewell address.
His speech was passionate and from the heart. He urged the American people to stay vigilant in what is happening in the politcal arena and even to run for office themselves. His speech got emotional as he spoke of his wife, Michelle and daughters Malia and Sasha. He even shed a tear which he wiped away with his handkerchief.
Towards the end of his speech, he reiterated his motto, "Yes We Can" followed by saying, "Yes We Did," as the crowd cheered.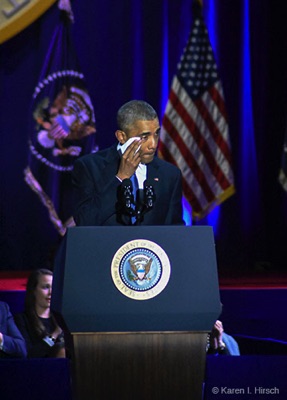 Obama's positive attitude about the future generation elicited a feeling of hope, uplifting the audience. The crowd showed their approval with loud applause. One section of the audience shouted, "Four More Years."
"I can't do that," was his response with a large smile.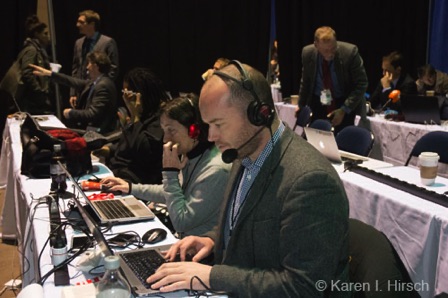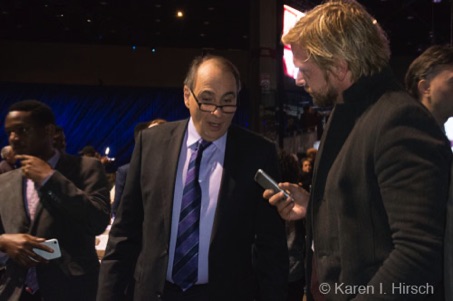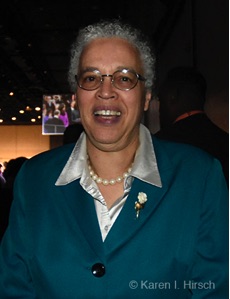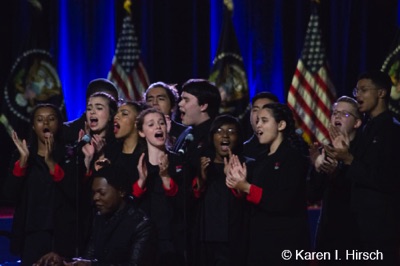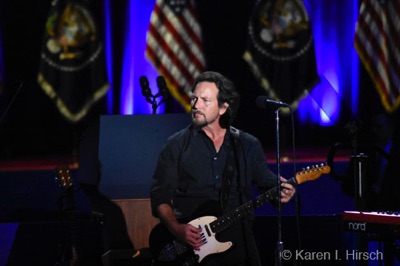 As far as my personal experience, I did not find out if my credentials had come through until the morning of the day of the speech. I went to McCormick Place first thing in the morning. I parked in a designated lot blocks from McCormick Place and walked in the rain past a construction area and under the expressway to get to the building.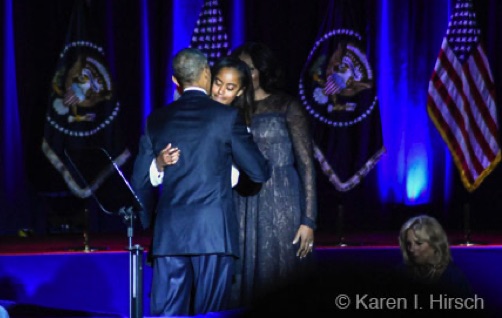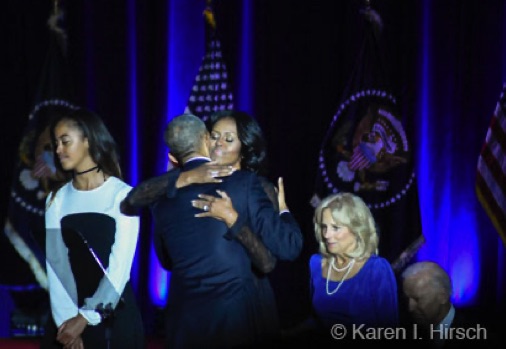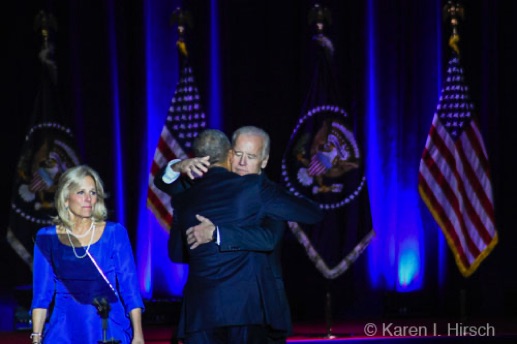 More walking - once I was inside the building. After passing through a couple of guards, I entered the auditorium. Yes, I was on the list for media credentials. No, as a still photographer, I was not allowed to use the tripod which I had brought with me. Media access was closed at 9:00 AM, so I had hours to spare before returning to the auditorium..
I came back about 3:30 PM. A huge line of media folks had formed to go through the check point. As the line slowly moved, I talked with John White, Pulitzer prize-winning photographer who had worked at the Chicago Sun Times for many years and is currently teaching at Columbia College.
After entering the auditorium, I had a long wait. I occupied my time by scouting locations and angles around the room. I surmised that the best place to shoot was from the center platform. As people started to come in, I photographed some of them being interviewed. I also documented reporters working on their laptops at the many tables positioned on one side of the room.
I spotted some Democratic dignataries in the room. Chicago Mayor Rahm Emanuel, former Chief of Staff for Obama came strolling by, as did Cook County President Toni Preckwinkle whom I stopped for a photo. She extended her hand to me and said, "I'm Toni." I saw David Axelrod being interviewed.Then I caught a glimpse of Vice President Joe Biden talkinig to someone who looked like Jesse Jackson. (Hard to be sure. His back was turned to me.)
David Axelrod being interviewed by Der Spiegel reporter Gordon Repinski
Eddie Vedder of Pearl Jam accompanied by the Chicago Children's Choir
Michelle Obama embraces her husband
VP Joe Biden gives big hug to Obama as Jill Biden looks on.
Joe Biden and the Obamas wave good-bye.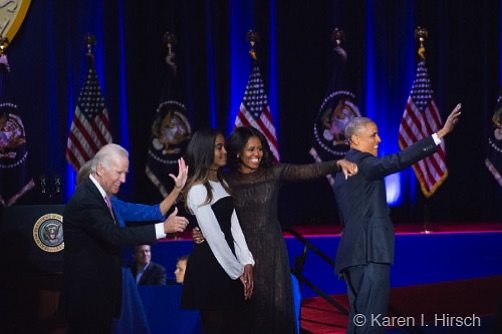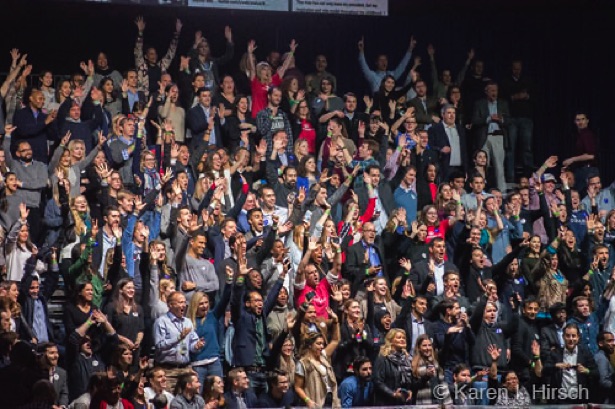 President Obama wipes away a tear
Reporters work on their laptops.